Take advantage of reliable propane delivery and flexible billing options to fit your schedule and budget.
Enjoy MFA Oil's competitive prices throughout the year by finding the most beneficial propane service program to meet your needs. Take the guesswork out of budgeting your costs and rely on MFA Oil's tank-monitoring technology, so you never have to worry about running out of propane.
Propane Pre-Buy
Protect yourself from volatile market pricing during high-demand winter months by signing up for our Propane Pre-Buy program. Contract your supply of propane, rest easy knowing your price is locked in for the duration of the contract and take advantage of our Keep Warm Guarantee.
Choose from one of three easy payment plans:
100% Pre-Buy. Pay for your full year's supply of propane in one upfront payment at a locked-in price.
4-Pay. Split your payment into four even installments — one when you sign up and one in each of the next three months.
Budget Plan. Make a down payment, then divide the balance over the remaining months through the following April.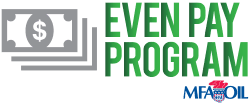 Even Pay Program
Do unpredictable winter propane prices make it hard for you to budget for your heating requirements during cold months? Sign up for MFA Oil's Even Pay Program and spread your annual propane heating costs over a specified period to even out the cost of your heating bills throughout the year. Get a fixed monthly payment based on your estimated propane consumption with no enrollment fee and no interest charges so long as you make your payment on time each month.
Auto-Fill Program
Considering your busy life, wouldn't it be helpful to have one less thing to keep track of, like the level of propane in your tank? MFA Oil's Auto-Fill Program utilizes tank-monitoring technology that factors in past usage and weather conditions to tell us when you need a propane delivery. You won't need to check your tank gauge or worry about running out of propane—we'll deliver when you need it. With our Keep Warm Guarantee, that's a promise.
50/50 Referral Program
The best compliment we can get from you is your referral of friends and neighbors to buy propane from us. We appreciate your confidence in us, and we will offer a $50 gift card to you and to any new propane customer you refer. There's no limit to the number of gift cards you can earn!