BOSS Performance Diesel
Give your engine the performance boost it needs with BOSS™ Performance Diesel.
Whether you use diesel fuel for agriculture, construction, trucking or just getting around town, rely on BOSS — a scientifically designed and tested diesel for on-road and off-road vehicles of all ages, including today's high-tech engines.
Get BOSS delivered to your farm or business by contacting the bulk fuel office nearest you. You can also fill up at many of our more than 170 Petro-Card 24 fueling stations.
The Benefits of BOSS Diesel
The advanced detergents in BOSS Performance Diesel will keep your engine running like new. BOSS:
Increases horsepower and fuel economy over untreated #2 diesel fuel.
Extends engine life by increasing lubricity, typically by 15%, exceeding the standards of manufacturers and ASTM International.
Delivers quicker startups and smoother operation with low-temperature operability that's 20° F better than untreated diesel and a shorter injection delay (typically, a cetane number of 49).
Keeps engines cleaner by preventing fuel-filter plugging as well as deposits on nozzles and internal diesel injectors.
Protects against corrosion throughout the entire fuel system.
Ensures superior storage life with better thermal and oxidative stability and multi-staged water-control chemistry and icing inhibitors.
Modern Diesel Engines
Diesel engines are becoming more complex with each new model year. Stringent EPA emission requirements have forced engine manufacturers to design and utilize High Pressure Common Rail (HPCR) injection systems. The typical HPCR injection system has constant pressure and temperature that exceeds 35,000 p.s.i. and 400°F, respectively. Learn how BOSS Diesel helps these complex engines run efficiently for the long haul.
Internal Diesel Injector Deposits

The extremely high-pressure and high-temperature environment of modern engines thermally stresses the fuel and causes it to break down, or coke, in the upper cylinder of the injector. This leads to deposits on the armature plate, injector nozzle and push rod. These deposits are referred to as Internal Diesel Injector Deposits (IDID) and can be waxy/soapy or carbonaceous in nature. The internal injector components run at such tight tolerances that even a small, thin deposit or film can cause sticking and interrupt fuel flow to the cylinder. This results in a rough running engine, which causes diminished power and fuel economy.
Premature Fuel Filter Plugging
Fuel that passes through the injector is exposed to extremely high heat, literally cooking the fuel and causing carbon particles to form. Part of that fuel goes back to the fuel tank and contaminates the fuel. It is then pumped back through the fuel system where the fuel filter traps contaminants. The carbon particles plug fuel filters prematurely and cause loss of fuel flow, resulting in reduced power and fuel economy.
BOSS Performance Diesel contains stabilizers that inhibit formation of carbon particles, prolonging the life of the fuel filter and maintaining optimum power and fuel economy.
Nozzle Deposits
In order to meet today's tough emissions requirements, the injector must provide an extremely fine mist of fuel to the combustion cylinder. In order to force the fuel through, extremely small holes and high pressure are required. Because of high temperatures, fuel coking can occur on the tip of the injectors, which partially or completely clogs the holes and disrupts the spray pattern. This results in an incomplete burn inside the combustion chamber, leading to increased emissions and reduced horsepower and fuel economy.
BOSS Performance Diesel is not only designed to prevent the formation of these deposits, it also cleans up deposits on injectors that have been running on another brand of diesel fuel.
Low-Temperature Operability
BOSS Diesel is formulated to reduce the need for blending with #1 diesel fuel, in most cases. Featuring a potent combination of wax modifiers, anti-wax settling agents and multiple-stage icing inhibitors, it is designed to prevent fuel gelling, filter plugging and icing.
BOSS Performance Diesel improves cold-weather operability, compared to typical untreated diesel fuel.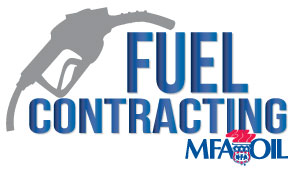 Fuel Contracting Options
Enroll in a fuel contracting program and lock in your price for BOSS Performance Diesel.