Propane For Your Business
Power your business with propane.
Our highly trained staff ensure a wide range of businesses receive the propane and service they require to be successful.
Propane Service Programs
We offer flexible propane service programs to best meet your needs.
Contract your supply to lock in favorable pricing.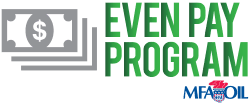 Get a fixed monthly payment to spread out your costs.
Set up worry-free deliveries to keep your tank full.
Dependable Propane Supply
For more than 90 years, MFA Oil has safely and reliably met the energy needs of our customers, and our team of experienced and highly trained professionals is ready to meet the propane needs of your business – no matter its size.
Convenient Service
Our large fleet of trucks provides consistent, on-time delivery to ensure you have the propane you need to stay productive, and we offer tailored solutions like Auto-Fill to match the demands of your business.
Flexible Solutions
We offer a variety of customizable options to meet the unique demands of your industry so that you stay focused on running your business. Whether you are looking for bulk delivery, flexible refueling options or a more temporary solution, we can tailor a plan to fit your needs.
Propane Uses in Business
Greenhouse & Nursery Heat
Propane has become a go-to source for greenhouse and nursery operators because it is a convenient and dependable way to provide the heat needed to keep plants healthy and happy throughout the winter.
Commercial Heating & Cooking
The efficiency, reliability and versatility of propane make it a top choice for many commercial applications – from powering boilers and furnaces to commercial cooking appliances.