Enjoy the comfort, convenience and efficiency of propane.
For more than 90 years, MFA Oil has reliably met the energy needs of our customers, and our team of highly trained professionals are ready to service all your home's propane needs. Our employees live in the same communities they serve and are proud to deliver friendly, personal service. Because there's something special about serving the people you call neighbors and friends.
Whether you are looking for service for an existing propane system or you are looking to add propane service to your home, our team of experienced propane experts can care for all your needs. From installation to safety inspections to equipment maintenance, we will ensure your propane system is running worry-free. Additionally, we offer a variety of propane programs to fit the needs of our customers, including Pre-Buy contracting, Even Pay and Auto-Fill.
Propane Service Programs
We offer flexible propane service programs to best meet your needs.
Contract your supply to lock in favorable pricing.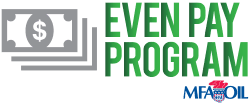 Get a fixed monthly payment to spread out your costs.
Set up worry-free deliveries to keep your tank full.
Propane Tank Leasing & Maintenance
Lease a new tank or get your existing tank serviced by our propane professionals at MFA Oil.