TOP TIER™ Detergent Gasoline
Choose TOP TIER™ Detergent Gasoline for peak performance.
With 2.5 times more detergent than regular gasoline, TOP TIER maximizes fuel efficiency and performance for a cleaner engine. You'll make fewer trips to the pump and fewer trips to the mechanic, too.
Buy TOP TIER gas at any of our more than 170 Petro-Card 24 fueling stations and over 70 Break Time convenience stores. You can also get it delivered to your farm or business by contacting the bulk fuel office nearest you.
The Benefits of TOP TIER Gas
Use TOP TIER gasoline every time you fill up to ensure a clean, high-performing engine. TOP TIER:
Extends engine life by reducing deposits on intake valves, fuel injectors and other engine parts
Maximizes cleaning power with a certified blend of detergent additives that restores engine power and exceeds EPA requirements through four rigorous tests
Optimizes fuel economy by decreasing the likelihood of improper fuel distribution, rough idling, engine stalls, piston misfires and other problems caused by buildup
Works in all gasoline engines – from today's modern engines to those with older technology
Is highly recommended by 7 out of 10 top automakers
Can be found in all grades of gasoline sold by MFA Oil and costs the same as regular gasoline sold elsewhere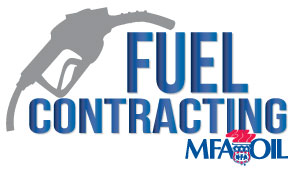 Fuel Contracting Options
Enroll in a fuel contracting program and lock in your price for TOP TIER Gasoline.